Importance of Testing
Importance of Testing
<![if !vml]>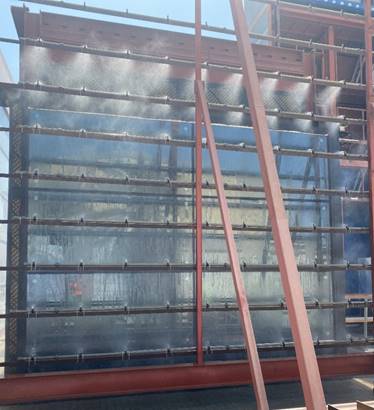 <![endif]><![if !vml]>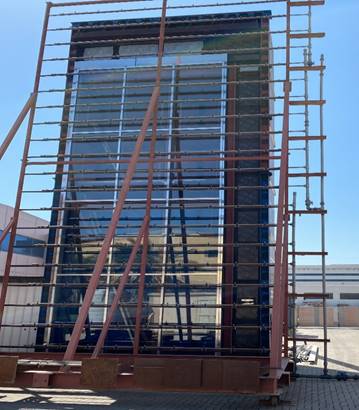 <![endif]>
Introduction:
Curtain walls, windows and cladding, represent as much as 50% to 100% of the exterior building envelope wall cladding of large buildings and are responsible for determining the performance levels of the vertical building envelope. As such, they are a critical and extremely important architectural aspect of a building and represent a significant portion of the overall cost of a building construction, generally around 30% and often regarded as the most important and complex of the 3 building disciplines Structure, Mechanical and Facade. Given the ever-growing complexity, environmental controls and variety of today's building envelopes, the evaluation of their performance, in terms of structural integrity, durability and weathering testing, as well as internal comfort requirements, energy conservation and emission controls, in the pre-construction and construction phase is essential, in order to avoid undesirable and costly problems during the service life of the building.
Curtain Wall/Window /Doors & Glazed Systems Design and Engineering:
Large and small glazed curtain wall systems are in the main factory-fabricated assemblies that can be shipped to the construction site - either as pre-assembled panels (unitised) or in kit form for onsite assembly (stick). Aluminium is the preferred and most popular choice of framing material due to its versatility, ease of extrusion, fabrication, light weight and recyclable qualities. Glazing choices for the IGUs and DGUs are extremely varied due to the high availability of glass types, coatings, as well as composite panels (ACP), solid panels (Honeycomb) and various forms of stone. Individual systems being chosen for their specific Project compliance with Architectural intent and performance requirements and imposed loads established by individual project performance specifications.
Common Performance Deviations
Performance requirements need to be established for each project on a project-by-project basis, considering building height, geographical location, exterior and interior design parameters, safety, fire and environmental controls, as well as the type of building usage and occupancy.
The most commonly experienced performance anomalies that often result in complete replacement or expensive restoration/high maintenance activities are as follows:
<![if !vml]>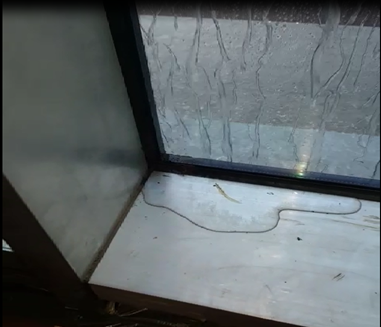 <![endif]>
· Any form of water infiltration to the interior side of a building - internal finishes damage - this highlights a breach in the façade system
· Excessive air leakage resulting in discomfort to building occupants - energy loss - carbon emissions
· Structural load failure - corrosion of exposed steel and or anchors
· Thermal discomfort
· Condensation - breaches in the façade system allow moist air to the inside space.
Therefore, the primary performance requirements are required to be established at the design phase of each project separately and individual systems engineered to support the project specific imposed loads and comply fully with the performance levels, verified by 3rd party independent testing.
Why is Façade Testing so Important:
Building facades/envelopes are fully exposed to local weather conditions, which have a potential for deterioration and premature failures. Therefore the façade system/s must be subjected to a series of weather and structural tests to ensure durability, stability and safety. International testing standards are used by accredited tested laboratories under ISO 17025 and are appointed to simulate local weather conditions defined from the specific project design parameters. Testing provides assurances as to the systems performance and safety levels in compliance with the design and reduces the risk of repair from water-damaged interiors, reconstruction and restoration of low performance and leaking facades. Sequential testing of the installed façade systems onsite provides system performance compliance as well as quality of installation, alerting all to any in built defects, for correction, as the works are progressed.
Bespoke façade systems can be categorised as being of a similar level and requirement for testing as the many modes of transport which undergo strict regimes of testing without question. The associated risks from façade failure, glass falling from height cannot be underestimated – Testing is Important.
A Timely and well Planned Façade Performance Test:
· Ensures the safety of public and occupants of the building by identifying and ensuring the structural and seismic stability
· Is necessary to evaluate and validate the design of the façade
· Identifies and points out fabrication errors, air leakage, water leakage if any
· Helps in rectifying all faults before final production
· Saves cost and time
· Ensures a quality façade
<![if !vml]>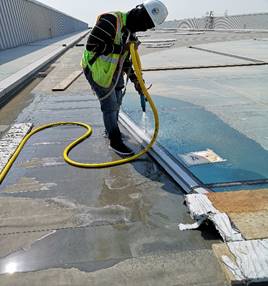 <![endif]><![if !vml]>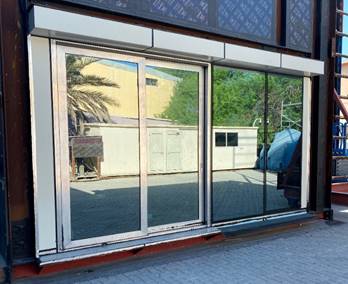 <![endif]>
International & Industry Standards
Currently there are no mandatory design and testing requirements regarding air permeability, weather ingress, energy loss, carbon emissions and general overall safety for the performance of installed curtain walls, windows and doors in Bahrain, relying on Consultant performance specifications and the Developer and Contractors acceptance of often viewed high cost quality design parameters and an industry acceptable level of proven testing. If the commitment to zero rated emissions by 2050 is to be met, the current mind-set and relaxed attitude by Developers/Consultants, Contractors and particularly Ministries must radically change. Introduction of mandatory design parameters and rigorous testing, during system development and design as well as progressive onsite testing. Provision of an energy compliance pack, consisting of LEED compliance, testing reports and importantly an accredited air test for every building prior to occupation would perhaps be a major step forward. The appointed engineering consultant (rarely façade consultant in Bahrain), for each project follows American, British and or European international codes or often a combination of codes. While most of the parameters maybe similar, there are considerable variations in terms of testing and design methodology and acceptable parameters.
<![if !vml]>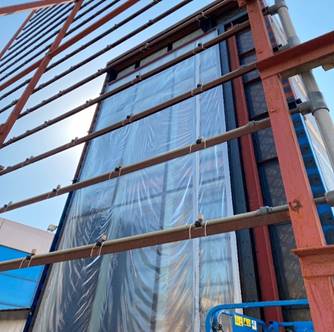 <![endif]>
Types of Tests:
· Air infiltration / exfiltration test
· Static water penetration test
· Structural load test
Additional Tests:
· Dynamic water penetration test
· Water Hose Test
· Seismic test
· Thermal cyclic test
· Hard body / soft body impact test
· Acoustic test
Besides these, a curtain wall can be tested for fire performance, bullet resistant & blast resistant as well depending on the individual specific project requirement.
Laboratory Testing Mock-Ups
Project specifications and performance specifications for the greater number of new and or refurbished buildings, dictates the performance levels required for the curtain wall (unitised or stick) window and door systems which are to be incorporated into the building envelope are evaluated for their respective performance criteria in an ISO 17025 accredited testing laboratory prior to construction.
The test mock ups are full size and replicate the exact system construction and site conditions that the actual façade at site will be constructed and be tested to replicate the envisaged weather and structural conditions imposed by, driven wind and water. The installed mock up is subjected to the test sequence under the specific testing standard/cycle specified by the consultant in conjunction with the accredited test laboratory. The test mock up should be provided to be in line with the complexity of any given detail or condition, corners, operable lights, on slope, projected and penetrations in order to fully assess under test the most onerous formations of the façade systems which are repeated throughout the facade.
Requirement for Test Mock-Up:
The test area selected for glazed curtain walls/windows and doors should incorporate all the essential components, design details and interfaces across the façade, in order to be representative.
· The test area should be at least three glass bays wide and at least one full floor height preferably 2 full floors, providing sufficient test area to incorporates all the junction details and maximum spans between fixed points for structural analysis during testing.
· In the case of a unitised curtain wall systems, a vertical module joint and horizontal starter module joint should be included within the selected test PMU area.
· The height of the test area should include at least one expansion or stack joint, at least one spandrel section and one vision section.
· Typically, the height of the test area should be at least one and a half full floor storeys high.
PMUs provided in this manner allow for testing of the three basic tests for curtain walls – Air infiltration, Water permeability and Structural service loads, in order to provide a clear understanding, the system/s under test performance and compliance with the specific project requirement. The results from the testing are provided and recorded by issue of a full test report in strict accordance with the specific International standards used and ISO 17025.
Air Infiltration Test:
Typically, a pressure differential must be created across the test specimen in order to simulate wind pressure. Once the required pressure differential has been achieved and stabilized the air flow shall be recorded via a flow meter. In order to create the required pressure differential, a test chamber is erected on the interior side of the test specimen.
The test pressures and allowable air flow through the system are typically specified by the project consultant, the air infiltration/exfiltration test is normally undertaken at a pressure differential of 75Pa, 300Pa or 600Pa. The purpose of the test is to determine the integrity of the system in regard to the permitted levels of air permeability.
Water Penetration Test
The water penetration resistance test consists of sealing a chamber to the interior or exterior face of the test specimen to be tested, supplying or exhausting air to the chamber creating a pressure differential at the rate required typically specified by the project consultant to maintain the desired air pressure difference across the specimen. Simultaneous to the application of air pressure difference, water shall be applied to the exterior face at the required rate given in the test standard while observing for any water penetration at the interior.
For the water penetration resistance test, a calibrated spray rack is positioned on the exterior side of the test specimen in order to apply a continuous and uniform water spray. It is important to have a sufficient and constant water pressure.
Other water tests include Dynamic water penetration, Water Penetration by Cyclic Static Air Pressure Difference, Water hose testing and spray bar testing.
The test sample would be recorded as a failure test, if water appears on the inside surface of the sample and water that is not contained and able to be drained away within the test period.
The presence of water on the inside surface installed is likely to cause damage to insulation, architectural fixtures and finishes.
Structural load test
Structural performance testing consists of utilising a test chamber located on the interior or exterior of the specimen. Air is extracted or supplied from/to the chamber to create the required pressure differential and the PMU structural mullions /transoms/Glazing under test, is systematically subjected to the projects positive and negative wind design loads to ensure the system complies to the projects deflection limits as required by the project performance specification, recorded from a series of deflection gauges strategically placed. This serviceability test is sequentially followed by a safety test where the system under test is subjected to 1.5 times the positive and negative wind design load, to check the system's ability to withstand safety loads as required by international standards.